FEATURED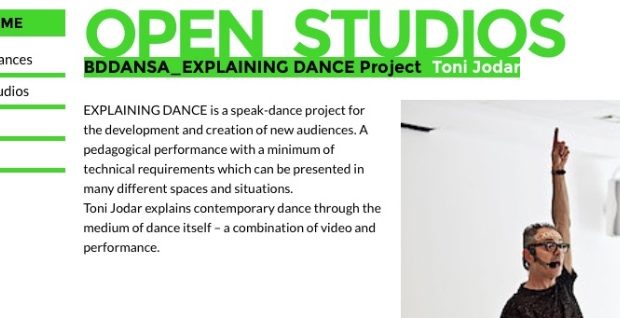 We will be at Open Studio Tanzmesse 2016
Explainig Dance Project at the Open Studio de Tanzmesse 2016
At 06/02  Explainig Dance will be part of the dance presentations of the fair of reference in Europe , Tanzmesse .
You will find information here.

---
The internationale tanzmesse nrw hosts the largest professional gathering dedicated exclusively to contemporary dance. The internationale tanzmesse nrw takes place every two years, generally at the end of August, in Düsseldorf, Germany.
At the Tanzmesse, artists from more than 50 countries in Europe, the Americas, Africa and Asia find an equal opportunity to present their work to a professional audience.
Tanzmesse value and encourage networking above all else. This means that participants can find many opportunities to meet their peers and colleagues in an environment where everybody is on the same level: in the Exhibition Halls, at the Talks & Panels and at the Open Studios, but also after the performances at the night-meeting encounters.
The performance programme of the Tanzmesse is an opportunity for Tanzmesse Exhibitors to present their work live, in the shape of fully produced performances or in the form of Open Studios, on 11 of the best stages for dance in Düsseldorf. The artistic programme is a selection of performances chosen from proposals submitted by artists.